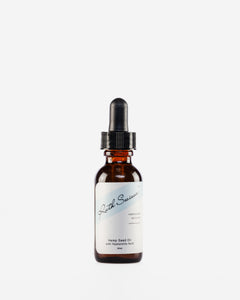 Hemp Seed Oil with Hyaluronic Acid
This serum containing condensed and pressed hemp seed oil is most advantageous for individuals with acne, cystic acne, and acne-picking. Our hemp seed oil compound is non-comedogenic and humectuant, extracting bacteria from the skin and regulating sebum protection and quality. Hemp seed oil infused with hyaluronic acid hydrates and soothes inflamed skin by balancing sebum. 
Highly recommended for oily, acne-prone, and problematic skin. 
Directions:
Apply twice a day, AM/PM therapy. After cleansing and toning, apply 4-5 drops to a dry face, neck, and chest. Hemp seed oil is a natural moisturizer, acting as a hydrophilic barrier.
Active Ingredients:
Organic unrefined cannabis sativa, sodium hyaluronate