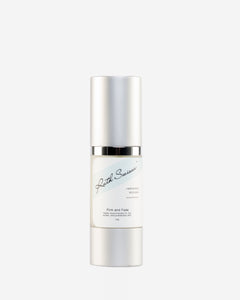 Firm and Fade
Firm and Fade lightens areas of hyperpigmentation (i.e., acne scars, melasma, stretch-marks). Swissa Skincare's Firm and Fade helps reduce dark spots.
Highly recommended for oily, acne-prone, and problematic skin. 
Directions:
In the evening, apply one pump of this Ruth Swissa™ Firm and Fade to clean skin, avoiding the eye area. Allow for absorption before applying other skincare products. Limit initial use to every third night. Firm and Fade is prone to increase photosensitivity. Always use a high, broad spectrum sunscreen when using this product. For increased UV protection, Ruth Swissa™ CE Ferulic Serum is recommended prior to sunscreen application.
Active Ingredients:
Purified water, white petroleum, cetyl alcohol, retinol, hydroquinone, kojic acid, hydrocortisone, edetate disodium, butylated hydroxtolene, sodium metabisulfate, ascorbic acid, stearyl alcohol, propylene glycol, glycerin, sodium laurel sulfate.