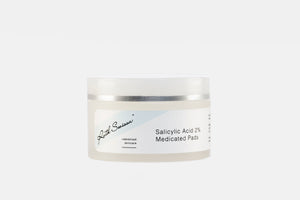 Salicylic Acid 2% Medicated Pads
These medicated pads treat acne and help prevent breakouts. Gently textured medicated pads infused with salicylic acid in order to remove excess oil and clear impurities that are lodged in the pores. These medicated pads do not only treat currently clogged-pores, but prevent the clogging of future pores by absorbing completely into the skin. These medicated pads are powered by 2% salicylic acid, allowing for the keratolytic activity to unclog pores by removing dirt, dead skin, and oil.
Appropriate for all skin types.
Directions:
After cleansing, swipe the affected area with medicated pad. Discard pad when finished. If bothersome dryness or peeling occurs, reduce application use. Use daily as needed.
Active Ingredients:
2% Salicylic Acid, alcohol, allantoin, capryoyl glycine, isoacetate 20, jojoba water, peg120 esters, phytic acid, EDTA.