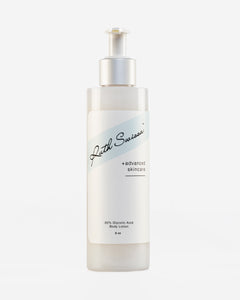 20% Glycolic Acid Body Lotion
Glycolic Acid Body Lotion helps provide a barrier from free radicals in order to fight the appearance of premature aging. Tightens appearance of loose-skin and reduces fine lines. 
Appropriate for all skin types.
Directions:
Every other night, apply a generous amount to the entire face, neck, chest, or selected area. If using in the morning, apply before Ruth Swissa™ CE Ferulic Serum and sunscreen. If skin starts to dry, minimize use.
Deionized Water, glycolic acid, propylene, glycol, cetyl alcohol, paraffinum liquidum, petrolatum, glycine soja oil, stearic acid, glyceryl stearate, laureth 23, urea, methylparaben, propylparaben, triethanolamine, carbomer, laneth, ceteth, steareth.